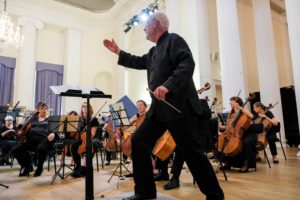 Cheltenham Philharmonic Orchestra
Stephen has been a member of Cheltenham Philharmonic Orchestra as a french horn player for nearly 40 years, and three years ago he was appointed conductor. His wife Sue leads the CPO, and has done for over twenty years!
The CPO Cheltenham is an amateur orchestra which studies and performs large-scale orchestral music. We play concerts in Cheltenham and the surrounding area every 2-3 months and are always delighted to welcome new players. The orchestra tries to maintain the tradition of performing music which would otherwise not be heard in Cheltenham. Rarities have included Julius Tausch's concerto for six timpani and orchestra, Spivakovsky's concerto for harmonica, Charles Ive's Symphony No.1 and Paul Creston's Marimba Concerto. New works by local composers; Tony Hewitt-Jones, Philip Lane, Graham Whettam and Neil Luck have also been featured. Audiences have been delighted by a succession of outstanding young soloists playing with the orchestra, including the cellist Susan Monks, violinist Jagdish Mistry and pianists Anya Alexeyev and Joanna MacGregor.
Please visit the website to find out more about the orchestra including details of upcoming concerts
Gloucestershire Symphony Orchestra
Stephen plays french horn for Gloucestershire Symphony Orchestra.
The Gloucestershire Symphony Orchestra was founded in 1901 by Cathedral organist Sir Herbert Brewer and conducted by Herbert Sumsion and John Sanders and Mark Finch, before Glyn Oxley was appointed in 2014. Since then the orchestra has greatly expanded the scope of its concert giving and performed in more than a dozen venues throughout the county and beyond. The GSO has performed concerts in Cheltenham, Cirencester, Gloucester, Stroud and Tewkesbury.
It has appeared at Gloucester's Three Choirs Festival in 1998, 2001, 2004 and 2007, winning acclaim as a champion of 20th century English music.